Welcome to the Holbeach Music & Beer Festival website
The Holbeach Music & Beer Festival celebrates its 5th year in 2019 and we have quickly established ourselves as a well organised, respected and now one of the most popular community events in Lincolnshire.
---
Something NEW & exciting for Holbeach...
The Holbeach Music & Beer Festival team are planning a fantastic night of LIVE music by introducing the first 'Battle Of The Bands' competition
This will be a FREE public entry event (over 18's only) but please confirm your attendance by clicking 'Going' on our Facebook event 'Battle Of The Bands' so that we can manage numbers safely. Saturday 9th November 2019 @ The Holbeach Community Centre Doors open 5pm - Midnight Licensed Bar / Live bands / Disco The winning act will receive £200 on the night PLUS a slot to perform on the big stage at the 2020 festival !! The winner will be decided by a public vote on the night (1 vote per person) so the more friends and family that support the evening the better the chance of your favourite act winning.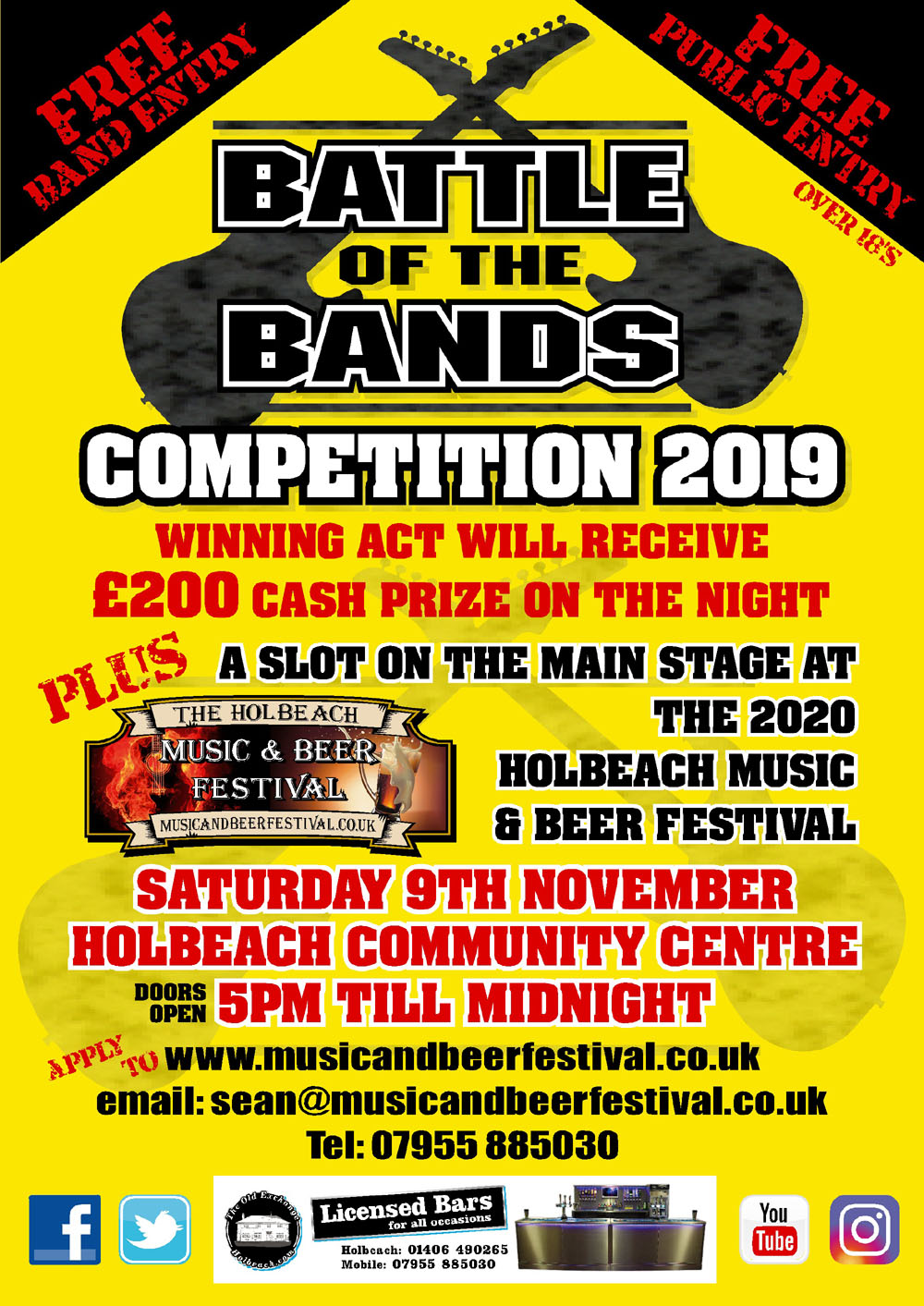 ---
BAND INFORMATION
FREE band / act entry competition... we will provide the PA & lighting but please bring with you all your other equipment required to perform. We will have 2 x stages set up so while one act is performing the next one can be setting up to save change over time. We welcome all types of music and acts including; bands, solo artists, duo, acts, acoustic performances and others. We always encourage and support younger band members and newly formed acts to give everyone the opportunity to perform to a live audience. We are limited on time so it will be first to apply first accepted, with a maximum of up to 8 acts on the night. The set time will be 30-45mins depending on how many acts apply. The band / act order will be decided by drawing lots on Friday 8th November
To apply please contact Sean
E: sean@musicandbeerfestival.co.uk
T: 07955 885030
www.musicandbeerfestival.co.uk
We have always tried to deliver the very best value for money and entertainment including sourcing the best live bands, stage, production, sound crew, beers, ales, ciders, food, funfair and activities. Our goal is to keep growing the event by appealing to a wider audience and this year we are proud to announce a brand NEW exciting attraction for all guests to enjoy by introducing 'The Holbeach VW Camper Van & Car Show' to the festival.
Thank you everyone for your continued support and after the success of last year we will continue 'theming' our festival and we encourage guests to dress up, let your hair down and have a fantastic time... so lets have some fun this year as we introduce The 80s / 90s themed Holbeach Music & Beer Festival. With great supporting acts and the best tribute bands in the country this will make 2019 our biggest live music investment line up ever !!
This year we have a NEW bigger professional stage to showcase all performers and give you guys the best show, sound and lighting experience you rarely see at smaller festivals.
We have all the ingredients with a proven formula for success which brings the whole community together for an enjoyable annual event not to be missed in Holbeach. The affordable family fun packed weekend will include supporting new music and encouraging the opportunity for local up and coming music acts to perform on our professional stage with lights, PA and sound crew. We hope to build the confidence of new bands by giving them the platform and priceless experience of supporting and performing before the festivals headline bands. Other attractions will include a great variety of food, ice cream, fairground rides, 'The Holbeach VW Camper Van & Car Show', inflatables, camping, VIP area with tables & chairs, professional festival bar complete with a selection of real ales, ciders, draught beers, spirits, wines, pimms, soft drinks and much more.
Our Sponsors
We need sponsors to make the festival a success, can you help? Click here for information
---
Thank you to our main stage sponsor this year
---
Look forward to one of the biggest and best live music and beer festivals in Lincolnshire.