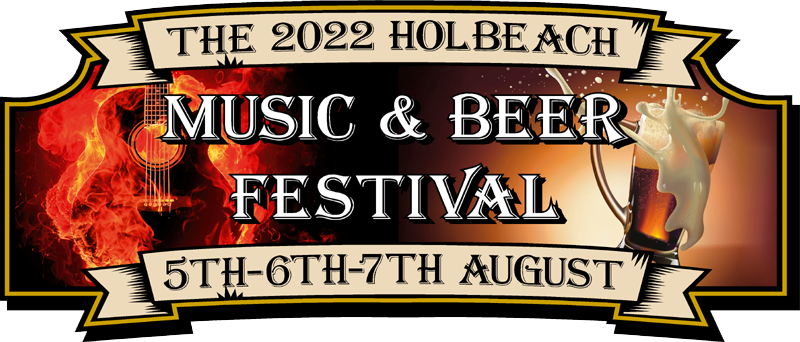 Holbeach Music & Beer Festival FAQ


TICKETS
Q: I haven't received my booking confirmation or E ticket, who do I contact?
A: Please email: tickets@bsnetwork.co.uk who are managing our ticket sales.
Q: Can I bring my dog to The Holbeach Festival
A: NO. Unfortunately we have a NO ANIMAL policy and dogs are not allowed anywhere on site apart from assistance/guide dogs.
Q: Does my Camping ticket price include festival entry?
A: Yes - Festival entry is included in the Camping ticket price .
Q: Can I take my own alcohol into the Campsite?
A: You can bring a limited amount of alcohol into the Campsite but NOT into the main event arena. ABSOLUTELY NO GLASSES OR GLASS BOTTLES PERMITTED but you are allowed to bring ONE of the following options (per person 18+) for the duration of your stay:

12 x 440ml cans of lager/cider/beer
OR

12 x 250ml cans of premix spirit drinks

OR

3-lirte box of wine

OR

5 litres of cider/lager/beer in plastic bottles or cans
Q: Can my E tickets be refunded if I am unable to attend on the day?
A: E tickets are non-refundable, non-returnable, and non-transferable.
Q: Where is the campsite?
A:The Campsite is situated on the same field as the festival.
Q: What payment methods do you accept at the bar?
A: The Bar operates a TOKEN only payment method. Drink tokens can be purchased from the kiosk trailer next to the main bar in the beer tent. We accept cash in the kiosk but strongly encourage all guests to bring a credit/debit card for all transactions to help reduce the amount of cash you need to bring with you. Drink tokens cost £1 each which will be exchanged for 1 drink token.
Q: Do we still need to a E tickets for our children aged 12 and under even though they're free of charge?
A: YES - Children aged 12 and under are free of charge (must be accompanied with paying adult) and still need to purchase tickets so we can manage numbers, at the entrance gate we will provide a free paper wristband and ask you to write your contact number on the reverse to assist us in our "Lost & Found Policy"
Q: Can I bring my own generator?
A: No, but electric hook-up is available at an extra cost.
Q: When will the E tickets go on sale?
A: We aim to start selling E tickets through our website in November 2019
Q: Will we be able to purchase on the gate?
A: That depends if there are any wristbands available. Please purchase early to guarantee entry and save money as the ticket prices increase on the gate. If we have any tickets available they will be sold at the main entrance gate on site. Please see the Tickets page for more information as we will post updates about availability on each day.
Q: Will I be able to re-enter the site if I leave during the day?
A: YES - We hope you won't want to, and we try to ensure you will not need to. However, everyone entering the site must purchase a ticket which will be exchange for the appropriate wristband. Last entry on any day will be 9:15pm. There will be security staff on site checking wristbands so please make sure you keep it on especially if your intending to re-enter the festival. Any persons found without a wristband on-site will be presumed not to be a paid guest and asked to leave the event.
Q: What do I get if I buy a VIP Pass?
A: The VIP wristband allows access to the VIP area with tables and chairs, luxury toilets, easy access to the bar, outdoor seating area, heating at night and positioned opposite the main stage.
Q: Can I buy wristbands locally?
A: NO
Q: Do I need to print off my E tickets for entry?
A: We can scan your mobile phone if your tickets are displayed on the screen (your phone will need to read PDF files) so you don't have to print them off at home.
Q: Can I buy Tickets locally because I don't use computers?
A: YES - If your not computer confident we can print off your tickets manually on your behalf and arrange local collection/payment please contact Sean for assistance 07955 885030.
Q: When does the campsite open and close?
A: Open for arrivals: Friday 6th August 2021, Saturday & Sunday at 12:00hrs. Last entry 21:30hrs
Closes: Monday 9th August 2021 at 12:00hrs
Q: What facilities are on the campsite?
A: Included in your camping ticket you will have access to: luxury showers, toilets, phone charging points.
LIVE ACTS/BANDS
Q: What bands are playing this year?
A: Click here to see our schedule page for full information
GETTING TO THE HOLBEACH MUSIC & BEER FESTIVAL
Q: Will there be signposts from the main roads?
A: Yes, there will be signs directing you from the A17 main road, Holbeach town centre and the BII68. Full directions, postcode and travel details click here
Q: Is there parking at the festival and will I need to pay for it?
A: There will be plenty of parking at the festival and it is all free of charge.
Q: How often does the FREE shuttle run and where in Holbeach town does it collect from?
A: We have a double decker bus running (both ways) every HOUR on the HOUR collecting passengers from The Bus Stop opposite the Co-Op Store, 5 Fleet Street, Holbeach PE12 7AX to the venue. The first collection will be 12PM and the last collection 9pm on Friday, Saturday & Sunday. The return buses will continue to run while the festival is open and depart at approximately HALF PAST the HOUR or until everyone is safety back to Holbeach town.
Q: Can I bring a picnic?
A: Yes, However the food on offer from the festival traders is diverse and of the highest quality. There should be something on offer for everyone, and you have not experienced the festival without trying some of the cuisine on offer!
Q: Can I bring alcohol into the event?
A: NO. Only plastic sealed 500ml bottles containing water or soft drinks will be allowed into the arena. Absolutely no glass.
Q: Will there be any covered areas if it rains?
A: There are a number of covered areas - the main beer tent has enough room for 1,000 guest, some covered food stalls and the VIP area is in a marquee.
Q: Will there be seating?
A: The festival is all standing but the VIP area includes reserved seating.
Q: Can we take our own chairs?
A: YES – but only foldable easy to manage chairs as most people tend to stand to watch the acts on the main stage. We really encourage people not to bring furniture into the main arena as it can be a safety problem, and you would not be able to see much anyway! However, you MAY bring a rug or shooting-sticks, so you need not be on your feet all day. Anything that is deemed too bulky will not be allowed into the arena so please consider this before entering. Various bars and catering areas will have some seating available.
Q: Can we bring gazebo/tents in the arena?
A: NO - they are a huge risk to yours and other festival goers safety. In an emergency we would need to evacuate the arena as quickly and as safely as possible.
Q: Can we bring a wind break or sun tent into the arena?
A: NO - they are a huge risk to yours and other festival goers safety. In an emergency we would need to evacuate the arena as quickly and as safely as possible.
Q: Will there be ATMs at the festival?
A: NO, but the Token kiosk will be happy to offer cash back when using a card.
Q: Is there camping?
A: Yes, please see our camping information page click here for details.
Our Sponsors
We need sponsors to make the festival a success, can you help? Click here for information